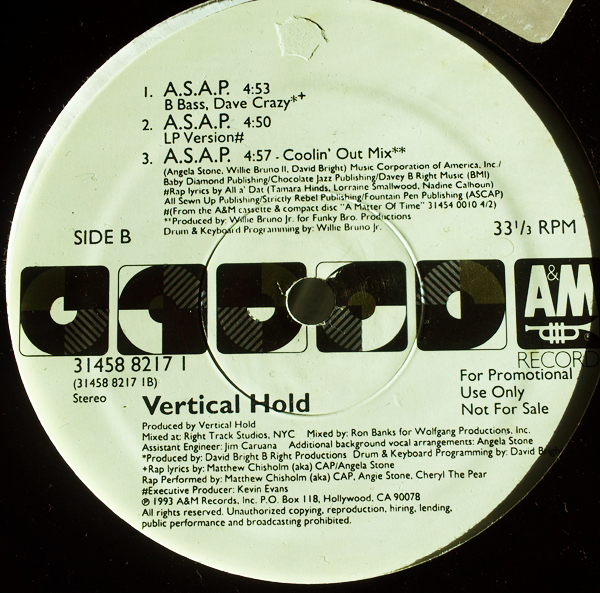 Artist: Vertical Hold
Title:A.S.A.P. (Remixes)
Release Date: 1993
Label: A&M Records
Catalog: 31458 8217 1
Tracklist:
A1 – A.S.A.P. (Cool House Mix)
A2 – A.S.A.P. (B Bass, Master Mix)
A3 – A.S.A.P. (B Bass, No Rap)
B1 – A.S.A.P. (B Bass, Dave Crazy)
B2 – A.S.A.P. (LP Version#)
B3 – A.S.A.P. (Coolin' Out Mix)
Last week I went searching for records, starting at my usual place online to see if anyone was selling vinyl that I might be interested in. After following a few leads, I decided to take a chance on one seller who lives somewhat nearby. The description of the records made me feel that there would be just a couple records in a huge stack that I would want to listen to.
I purchased a lot of 60 records for twenty bucks. I felt as though it was a fare price, given the obscurity of most of the records, and if there weren't any good records within the pile, I wouldn't lose out too much.
My friend Aaron came along for the journey, so upon returning I asked him to pick the first record to listen to, which is called 'In My Bed' by Goddess. It was quickly decided that this would be the next record to be put up on the website, until…..we tried another record by the group Vertical Hold. This record is comprised of various mixes of the song 'A.S.A.P.', including a house mix with and without a rap, and mixes tinged with more Hip Hop and R&B.
So far we have only listened to a few records out of the bunch and I would say it has been about a 70% success rate, which is amazing for stack of unknowns. I feel that this will decrease soon, considering we have been looking at the front covers to make our primary selections.
I am not going to discuss the release too much, but I would like to note that there is some distortion on a couple of the songs. I do not believe it was from the digital conversion, rather I think the levels were pushed a bit when it was recorded to vinyl. You don't notice it too much unless you are listening for it, and I do not think it takes away from the music.
Band members include Angie Stone, David Bright, and Willie Bruno.
Stone has recorded solo projects under her own name as well as aliases such as Angela Brown and A.B. Stone.